Category Archives: Bez kategorii
New MenaQ7® Vitamin K2 Cardiovascular Study Publishes
Vascular Diseases and Therapeutics publishes 1-year study confirming                   
MenaQ7® Vitamin K2 as MK-7 supplementation improves vascular health

A new one-year clinical trial has just been published showing that a daily nutritional dose of MenaQ7® Vitamin K2 as MK-7 improved vascular health, adding to the substantial body of evidence confirming MenaQ7® Vitamin K2 is clinically validated to offer cardiovascular support.  

According to the authors of "Effect of Menaquinone-7 (vitamin K2) on vascular elasticity in healthy subjects: results from a one-year study", Matrix Gla-Protein (MGP) is involved in the prevention of arterial calcification. During vitamin K-insufficiency, MGP is produced in its inactive form: dp-ucMGP. Two 3-year intervention studies in the general population have shown that increased vitamin K intake may decrease arterial stiffening, but the difference with placebo became only significant in the third year of treatment. "In the present trial the researchers investigated whether in a pre-selected group of vitamin K-insufficient subjects (men and women) an effect of vitamin K-supplementation may be demonstrated within one year," the authors wrote.

Completed by the expert researchers at VitaK, the placebo-controlled randomised clinical trial was performed in 243 subjects (40-70 years old) characterized by circulating dp-ucMGP concentrations above the median of the general population. Arterial stiffness was concluded from the carotid-femoral pulse-wave velocity (cfPWV), and other vascular characteristics were measured by echotracking of the common carotid artery. Treatment was performed with either 180 µg/day of Vitamin K2 as MK-7 (as MenaQ7® from NattoPharma) or placebo for one year.

In the total study group, MK-7 induced a significant decrease of both dp-ucMGP and cfPWV. The authors conclude: "High vitamin K intake decreased age-related vascular stiffening. The effects were most obvious in women with poor vitamin K status, and were statistically significant after one year of treatment."

"This study continues to build the rock-solid argument that MenaQ7 Vitamin K2 – not K1 or other unstudied Vitamin K2 ingredients – delivers important cardiovascular support," says Hogne Vik, NattoPharma Chief Medical Officer. "In this study, the participants taking MenaQ7 maintained arterial flexibility and the stiffness did not increase, whereas placebo group became stiffer and less flexible.

Vik continues, "These results mirror what we have seen in epidemiological studies, where populations who consume a lot of dietary Vitamin K2 have healthier hearts and more flexible arteries, as well as our groundbreaking three-year study in healthy postmenopausal women. Vitamin K2 is indeed a vital cardiovascular support nutrient, and MenaQ7 is the only K2 as MK-7 clinically proven to do so."
Vitamin K2 Needs RDI: New Paper
NattoPharma research partners publish important review paper clearly identifying the need for a Vitamin K2-specific RDI

Widespread Vitamin K deficiency has had an indelible impact on global cardiovascular and bone health, yet there is no established RDI (Recommended Daily Intake) for Vitamin K2. To that end, Nutrients has published a new review paper1 clearly identifying that differences between Vitamins K1 and K2, elucidating the need for a K2-specific RDI, completed with the support of NattoPharma, the Vitamin K2 leader, as partner within the Horizon 2020 grants EVOluTION and INTRICARE.

Vitamin K and its essential role in coagulation (vitamin K [Koagulation]) have been well established and accepted. Many countries have an RDI for vitamin K based on early research, and its necessary role in the activation of vitamin K-dependent coagulation proteins is known. According to the authors of "Vitamin K2 Needs an RDI Separate from Vitamin K1," in the past few decades, the role of vitamin K-dependent proteins in processes beyond coagulation has been discovered. Various isoforms of vitamin K have been identified, and vitamin K2 as long-chain menaquinones (i.e., menaquinone-7, or MK-7) specifically has been highlighted for its long half-life and extrahepatic activity, whereas the dietary form vitamin K1 and shorter-chain menaquinones have much shorter half-lives.

"In this review, we highlight the specific activity of vitamin K2 based upon proposed frameworks necessary for a bioactive substance to be recommended for an RDI. Vitamin K2 meets all these criteria and should be considered for a specific dietary recommendation intake," the authors write.

NattoPharma announced its intention to spearhead the pursuit of a K2-specific RDI in 2018. The program began with a team of researchers at Maastricht University, the Netherlands, the group that has led the way discovering and validating the health benefits of Vitamin K2, guided by Dr. Leon Schurgers, Professor of Biochemistry of Vascular Calcification and Vice Chair of Biochemistry at the Cardiovascular Research Institute Maastricht (CARIM), Maastricht University. NattoPharma has worked closely with the Maastricht University in documenting benefits of the company's exclusive branded MenaQ7® Vitamin K2 as MK-7, since 2004 – work that has been recognized with many peer-reviewed scientific papers and with recently awarded research grants.

 "We have been working with Maastricht University for almost two decades validating the health benefits of Vitamin K2, creating this category. Our work, in addition to others', is building the necessary body of evidence required to convince regulatory bodies how essential Vitamin K2 is for the betterment of global human health," says Kjetil Ramsøy, NattoPharma CEO. "This is no small undertaking, yet we at NattoPharma believe it is vital we reach a global recommendation for K2 intakes if we are to correct the K2 deficiency that has so negatively impacted the bone and cardiovascular health, and correcting this deficiency can benefit men and women, adults and children."
MenaQ7® Full Spectrum Vitamin K2 Launched
First and only full-spectrum Vitamin K2 that provides MK-6, 7 & 9 
NattoPharma further strengthens its reputation as the most comprehensive Vitamin K2 supplier by introducing a breakthrough unlike anything on the market: MenaQ7® Full Spectrum K2. This latest innovation is the result of a proprietary technological breakthrough, creating a Vitamin K2 that provides menaquinones (MK) 6, 7 and 9, a range of isomers vital for cardiovascular health.
According to NattoPharma, exclusive global supplier of MenaQ7, the only clinically validated and patented Vitamin K2 as MK-7, the important epidemiological studies that led it to its ground-breaking human clinical research used fermented cheese as the source of Vitamin K2, which led to the creation of MenaQ7 Full Spectrum.
According to researchers closely linked to these epidemiological studies: "Vitamin K is a fat-soluble vitamin that plays and unequivocal role in the activation of Gla-proteins. Although all K-vitamins have the same function, they differ in bioavailability and bioactivity … The Rotterdam and Prospect studies have shown that food-derived vitamin K (such as from cheeses) improves long-term cardiovascular health outcomes because it more specifically delivers the long-chain menaquinones MK-4 through MK-10."
The first and only Vitamin K2 to deliver to deliver a gamut of menaquinone isomers, MenaQ7® Full Spectrum is naturally fermented using chickpea protein, offering an all-trans Vitamin K2 that is free from gluten, soy and all-known allergens, and is suitable for vegans and vegetarians. MenaQ7® Full Spectrum provides the vital menaquinone isomers MK-6, 7 and 9 for optimal and maximal delivery of vitamin K2 with respect to absorption, half-life and biological activity.

New Study Confirms MenaQ7® Inhibits Artery Hardening
Clinical single-arm trial with renal transplant recipients shows improved arterial stiffness
A new study of renal transplant recipients, a group shown to express subclinical vitamin K deficiency, examined whether K2 supplementation would correct this deficiency and thus improve arterial stiffness. The study has published in Journal of the American Society of Hypertension, and the vitamin K2 used in the study was MenaQ7® Vitamin K2 as MK-7 from NattoPharma.
This Lebanese study evaluated in the KING trial (a single-arm pilot study) to see if there is an association between vitamin K2 supplementation and the change in both subclinical vitamin K status and indices of arterial stiffness among 60 renal transplant recipients with stable graft function. The results showed that 8 weeks of MK-7 supplementation (360 mcg/day as MenaQ7®) was associated with significant improvement in arterial stiffness and 24-hour peripheral and central pressures. The mean reduction in cfPWV was 1.4 m/s, which was well beyond the reduction of 1 m/s recommended for a clinically relevant vascular effect.
After just 8 weeks of MK-7 supplementation, low vitamin K status (represented by dpucMGP level) was significantly reduced by 55.1%. Moreover, supplementation was associated with a 14.2% reduction in mean cfPWV.
In addition, MK-7 supplementation improved vitamin K status, which was represented by the reduction in dp-ucMGP concentrations. A positive correlation was present between the reduction in arterial stiffness, a surrogate of early cardiovascular disease, and the circulating concentration of dp-ucMGP, a marker of subclinical vascular vitamin K deficiency and calcification.
The main conclusion was that, among renal transplant recipients with stable graft function, vitamin K2 supplementation was associated with improvement in subclinical K deficiency and arterial stiffness. According to the researchers, the findings from this trial support the hypothesis that subclinical vitamin K deficiency may be a modifiable cardiovascular risk factor and may improve with MK-7 supplementation.
Reference:
Mansour AG et al. Vitamin K2 supplementation and arterial stiffness among renal transplant recipients – a single-arm, single-center clinical trial. J Am Soc Hypertens. 2017 Jul 13. Pii: S1933-1711(17)30255-3.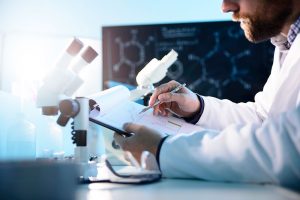 MenaQ7® Natto MK-7 Launched
The MenaQ7® line goes back to its roots as the Natto MK-7 variety is introduced.
Derived by bacillus subtilis fermentation and soy protein, MenaQ7 Natto provides all-trans isomers of K2 in a 96% active Mk-7.
According to NattoPharma, exclusive global supplier of MenaQ7, the only clinically validated and patented Vitamin K2 as MK-7, the company was founded on soy-based material, yet continued to innovate its offering based on market demand; namely, there was a growing concern over soy as an allergen. "But now, as a global supplier, NattoPharma has received overwhelming interest from companies looking to offer a soy Vitamin K2 as MK-7. Our response is a new variety on par with the same soy material we introduced to the market in 2004," says Hogne Vik, chief medical officer of NattoPharma.
With the MenaQ7 line, NattoPharma has pioneered the manufacturing and purification standards to ensure the material delivers the active molecule, void of impurities, and validated by experts so consumers using products containing MenaQ7 are receiving the desired effect. The new Natto-derived material is a further extension of that expertise and commitment to delivering quality products that meet marketing needs.
MenaQ7 Natto is the result of Bacillus subtilis fermentation with a soy protein substrate providing Mk-7 and a small amount of Mk-6.  Importantly, fermentation provides only active trans isomers of the menaquinones, the active form of K2.  Other products contain inactive CIS isomers, which can be considered contaminants.
This new variety joins the industry leading MenaQ7® Crystals, NattoPharma's natural material derived from fermented chickpeas, and the award-winning nature-identical synthetic MenaQ7® PharmaPURE.

"Climb to the Peak of Health" Message in Times Square
As a complement to its award-winning Beginner's DHA for Kids featuring MenaQ7® Vitamin K2, Wiley's Finest Fish Oil introduced its Adult formula at Expo West 2017. And the company's catchy campaign – "Climb the Peak of Health" – has been a huge success, landing on Times Square (NY, NY).
"Playing off the fact that Vitamin K2 is both a key nutrient in this formula and the name of the second highest mountain on earth, we decided to launch this product with the campaign theme of 'Climb the Peak of Health'. We felt it would be a fun and inspirational way to engage our valued customers and encourage them to rise to the heights of good health," explains Wiley's Finest™ CEO Sam Wiley.
The new product combines both 500mg of concentrated EPA and DHA Omega-3 from Alaska Pollock Fish Oil with a meaningful dosage of MenaQ7® K2 per serving (80mcg). Wiley's opted for this dose after reviewing studies that showed MenaQ7® K2 delivered positive health benefits at just 45mcg per day.
To learn more about the product, click here.