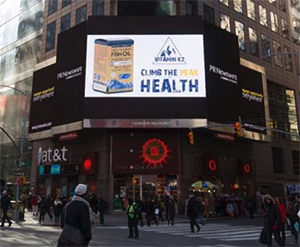 As a complement to its award-winning Beginner's DHA for Kids featuring MenaQ7® Vitamin K2, Wiley's Finest Fish Oil introduced its Adult formula at Expo West 2017. And the company's catchy campaign – "Climb the Peak of Health" – has been a huge success, landing on Times Square (NY, NY).
"Playing off the fact that Vitamin K2 is both a key nutrient in this formula and the name of the second highest mountain on earth, we decided to launch this product with the campaign theme of 'Climb the Peak of Health'. We felt it would be a fun and inspirational way to engage our valued customers and encourage them to rise to the heights of good health," explains Wiley's Finest™ CEO Sam Wiley.
The new product combines both 500mg of concentrated EPA and DHA Omega-3 from Alaska Pollock Fish Oil with a meaningful dosage of MenaQ7® K2 per serving (80mcg). Wiley's opted for this dose after reviewing studies that showed MenaQ7® K2 delivered positive health benefits at just 45mcg per day.
To learn more about the product, click here.