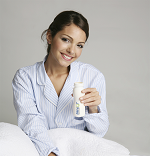 European Journal of Clinical Nutrition published a study that adds to the growing body of evidence showing that Vitamin K2 as MenaQ7® can be delivered and is highly bioavailable through yogurt and soft gel capsules, making the nutrient safe, effective, and available to an even larger population.
"This important study validates obtaining Vitamin K2 from food sources is essentially equivalent to Vitamin K2 delivered in supplements," says Hogne Vik, chief medical officer with NattoPharma, exclusive global supplier of MenaQ7. "Clearly getting Vitamin K2 from diet is ideal, be it cheese, natto, or enriched yogurts. However, as most Western populations are deficient in this essential nutrient, they are not getting enough from diet, making supplementation a viable alternative.
"This study further affirms that MenaQ7 is a safe and effective as either a supplement or a functional food," adds Vik. "We see this as support for further exploring the use of MenaQ7 in yogurt and other dairy products so we can reach an even wider audience."
To learn more, click here.