Search Results for: About
The importance of Vitamin K2 reached a new level of consumer awareness when it was mentioned specifically by Dr. Dennis Goodman, cardiologist and director of integrative medicine at New York University Langone Medical Center, as an important nutrient for heart health in an article that appeared in the April 25, 2016 issue of First For … Continue reading MenaQ7® Vitamin K2 Makes First For Women →
The importance of Vitamin K2 reached a new level of consumer awareness when it was mentioned specifically by Dr. Dennis Goodman, cardiologist and director of integrative medicine at New York University Langone Medical Center, as an important nutrient for heart health in an article that appeared in the April 25, 2016 issue of First For Women.
Dr. Goodman, author of Vitamin K2: The Missing Nutrient for Heart and Bone Health, was interviewed with an esteemed panel of experts about how the appropriate form of a vitamin or supplement makes all the difference.
"Vitamin K2 activates substances that keep calcium in bone, where it should be," he says, adding K1 doesn't deliver this benefit. And if you're also taking a calcium pill, it's critical to take K2, he stresses. Otherwise, that calcium can build up in blood vessels to raise heart attack and stroke risk.
Dr. Goodman suggested First For Women readers take 45 mcg of K2 daily, "like Doctor's Best Natural Vitamin K2 MenaQ7."
To learn more, click here.
Gnosis by Lesaffre welcomes the opportunity to engage with the media ​about the impact of our clinically proven MenaQ7® can have on the state of ​​global health.
Press inquiries can be directed to Kate Quackenbush, Communications Director:
K.QUACKENBUSH@gnosis.lesaffre.com
Continue reading

K2 Sources
Are you getting enough Vitamin K2? If you are eating a Western diet, you likely are not.
Vitamin K occurs naturally in two major forms — Vitamin K1 and Vitamin K2. While Vitamin K1 is found in green leafy vegetables, such as broccoli, spinach and kale, and is easy to incorporate into one's diet, the more beneficial Vitamin K2 is of bacterial origin and much more difficult to obtain through diet alone.
Vitamin K2 can be produced within the human body by beneficial bacteria colonizing the intestines. However, the intestinal absorption seems to be minimal, contributing little to the body's vitamin K requirements especially for bones and arteries, and research now indicates that contribution is much less than previously thought.
Therefore, the daily requirement for Vitamin K2 has to be gained from dietary sources, and the most popular sources in Western diets are curd, cheeses, and other fermented dairy products shown to contain Vitamin K2. But one needs to consume extremely high amounts of these foods daily in order to get a sufficient Vitamin K2 intake.
The best source of Vitamin K2 is a traditional Japanese dish made from fermented soybeans called natto, which is uniquely rich in menaquinone-7 (MK-7). As natto remains unpopular in the Western world, supplementation with additional Vitamin K2 is viewed as the optimal alternative.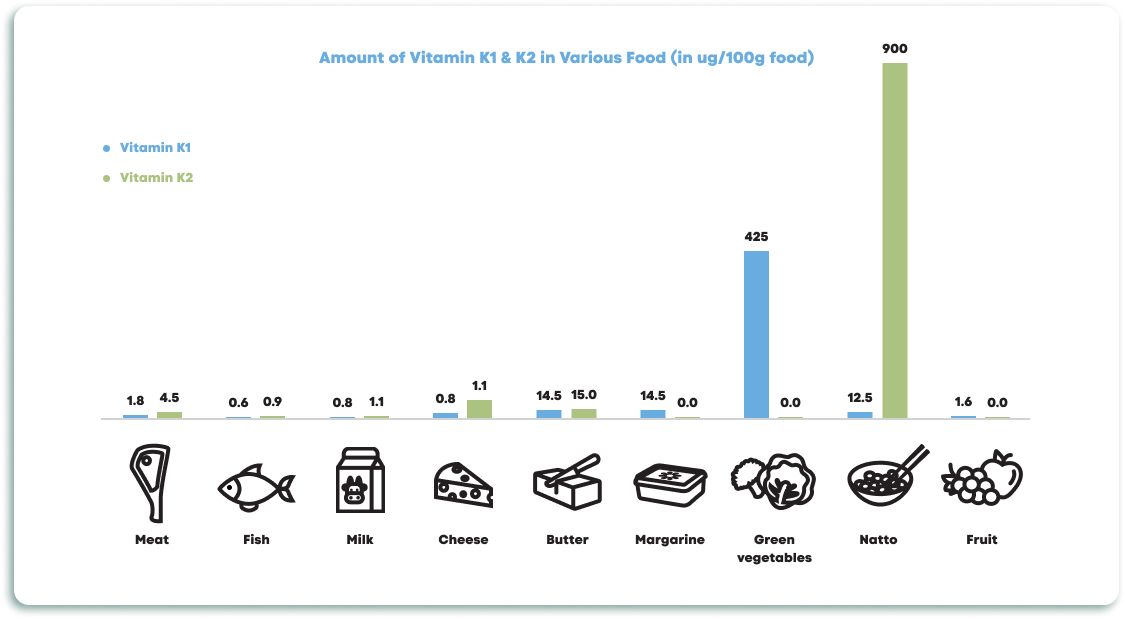 In general, the typical Western diet contains insufficient amounts of Vitamin K2 to adequately activate the K-dependent Matrix Gla Protein (MGP), which means about 30% of Vitamin K2-activated proteins remain inactive. This amount only increases with age. Further, Vitamin K2 is nearly non-existent in processed "junk" food, and even in a healthy Western diet.
Also of note is that there are currently no recommended intake levels for Vitamin K2 – the only recommended levels are for vitamin K1.
Continue reading

Videos
Vitamin K2 and Women's Health
Vitamin K2 + D3 = Better Together
MenaQ7 K2 For All Stages of Life
Vitamin K2 & D3 (Norwegian)
Vitamin K2 and bone metabolism
MenaQ7® - Make Your Products Shine
MenaQ7 K2 For All Stages of Life
Vitamin K2 And Cardiovascular Health
5 Things About MenaQ7® Vitamin K2
The Arteries & Vitamin K2
Vitamin K2 and cardiovascular calcification
Continue reading Why MenaQ7®
MenaQ7® is the only clinically validated and patented commercially available vitamin K2 as MK-7, meeting the demands of an increasingly growing global market.
Earning the VitaK2™ Seal of Quality and Efficacy from the world's leading experts in vitamin K, MenaQ7 products are backed by extensive human clinical documentation – in children and adults alike – that shows:
MenaQ7´s all-trans MK-7 products activate the vitamin K-dependent proteins Osteocalcin and Matrix Gla Protein (MGP), which contribute to bone health and cardiovascular health, respectively.
Common Western diets do not contain sufficient vitamin K2 for optimal activation of these proteins. However, daily use of MenaQ7 products ensures optimal supplies of the vitamin:
Pioneering Innovation
The flagship MenaQ7 natural material was produced via a fermentation extract whereby vitamin K2 is manufactured using Bascillus subtilis natto. This process produces a highly pure and bioavailable form of vitamin K2 as menaquinone-7 (MK-7). Since its establishment, novel technologies have been pioneered to expand the MenaQ7 brand, answering and meeting market needs:

MenaQ7® Crystals – Introduced in 2012, Crystals represents an important breakthrough in the new generation of Vitamin K2 products: the production of the purest natural MK-7 available that is free of soy and other known allergens.

MenaQ7® PURE – The only all-trans nature-identical synthesized Vitamin K2 launched in Fall 2014. Not only has this high-quality, low-cost ingredient successfully changed the market, but it was recognized at Natural Products West/engredea 2015 with the NutrAward for Best Functional Ingredient.
Facts about MenaQ7 Vitamin K2 as menaquinone-7 (MK-7):
Vitamin K2 is essential to utilize calcium in the body.
The majority of healthy people are vitamin K2 deficient.
Vitamin K2 as menaquinone-7 (MK-7) is the most bioavailable, longest-lasting, and most bioactive form of Vitamin K.
MenaQ7 is the ONLY vitamin K supplement effective within current RDIs, shown to be safe and effective at just 45 mcg daily.
Only vitamin K2 consumption has been linked to the inhibition of arterial calcification.
MenaQ7 is the ONLY patented, clinically supported vitamin K2 on the market today.