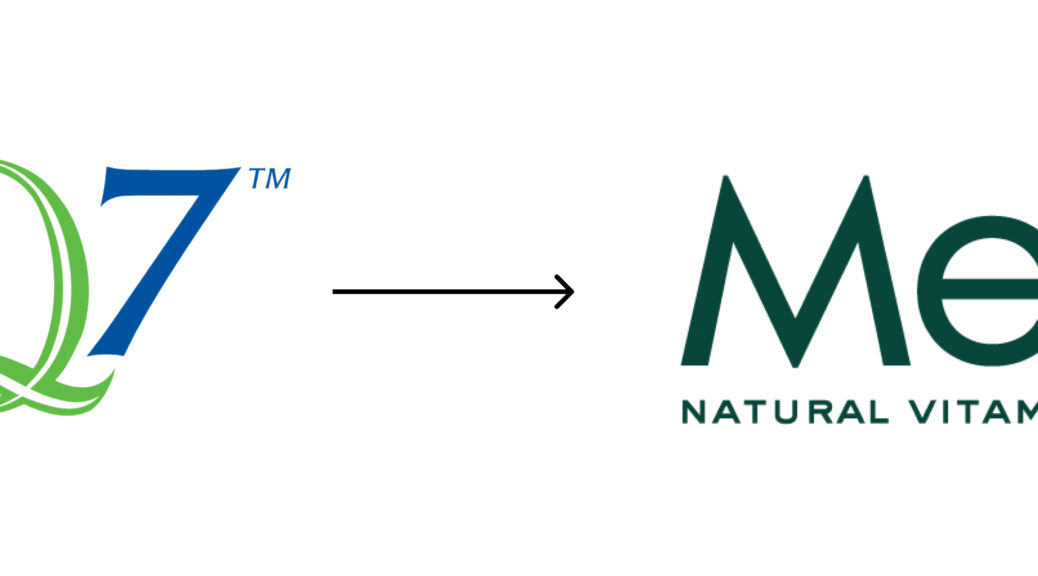 Creating the Vitamin K2 category almost 20 years ago, a new MenaQ7® brand identity earmarks the next era of K2.
Gnosis by Lesaffre is excited to announce the new identity for its uniquely scientifically backed Vitamin K2 as MK-7: MenaQ7®â. The established K2 category creator with more than 22+ published human clinical trials, MenaQ7® as a brand has remained relatively unchanged for the past 14 years, with a keen focus on validated benefits for bone health in children and adults and cardiovascular health in adults. But in acquiring MenaQ7® in 2021, Gnosis recognized the growing potential of Vitamin K2 for more areas of health, marking the perfect time to introduce the new MenaQ7® Natural Vitamin K2 as MK-7.
"The foundation of clinical evidence using MenaQ7® is what built the Vitamin K2 category and shaped our understanding of this important nutrient as we know it today. We believe the brand has signified 'Quality Confirmed by Science,' which is why so many of our partners include the logo on their product labels, marketing collateral, and websites," says Marc Philouze, Gnosis by Lesaffre General Manager. "Yet research is beckoning the continuation of that pioneering spirit, and more work must be done to confirm Vitamin K2's expanding role in supporting other areas of health. To that end, we have decided to introduce a new logo and brand identity for this new journey."
New Elements
Customers and the industry can expect no change in the core tenants of MenaQ7®: Science, Expertise, and Support. These pillars will anchor the brand on this new path of innovation, according to Philouze, which led to the "magnifying glass" component of the logo.
"The magnifying glass speaks to the curious spirit of discovery, and that quality and science must be meticulously sought," he continues. "Curiosity is essential to usher Vitamin K2 into the future – illuminating new indications with technological innovations unlocking new consumer applications."
Other new elements are the logo's colors and tagline. The new logo emphasizes Gnosis's dedication to natural processes that leave minimal environmental impact. To that end, the colors are softened and reversed from the traditional dark blue with a light green accent. And where MenaQ7® has long been "Vitamin K2 as MK-7," the MenaQ7 logo tagline is now "Natural Vitamin K2 as MK-7." 
"The visual identity introduced today has been designed to better connect with our customers and the industry, and represent the work we do, utilizing what nature has to offer and the protection of our planet's resources," concludes Philouze. "As we look to the future, we see nothing but promise and potential, particularly as the benefits of Vitamin K2 are expanding. Here, again, we will lead in that discovery with MenaQ7®."
The new brand identity is reflected on the refreshed www.MenaQ7.com and will make the transition to quality finished products featuring MenaQ7®.

>_______
About Gnosis by Lesaffre 
Gnosis by Lesaffre harnesses the power of microorganisms and biotransformation processes like fermentation to cultivate nutritional actives, probiotics, and nutritional and functional yeasts that benefit human health and well-being. The team draws on its focused research and application capabilities to collaborate with nutraceutical and pharmaceutical brands to develop game-changing products for their customers.  
Gnosis by Lesaffre – Exploring Life to Improve Living. http://www.GnosisByLesaffre.com
About Lesaffre 
A key global player in fermentation for more than a century, Lesaffre, with a 2.2-billion-euro turnover, and established on all continents, counts 10,700 employees and more than 70 nationalities. On the strength of this experience and diversity, we work with customers, partners, and researchers to find ever more relevant answers to the needs of food, health, naturalness, and respect for our environment. Thus, every day, we explore and reveal the infinite potential of microorganisms. To nourish 10 billion people, in a healthy way, in 2050 by making the most of our planet's resources is a major and unprecedented issue. We believe fermentation is one of the most promising answers to this challenge.   
Lesaffre – Working together to better nourish and protect the planet.