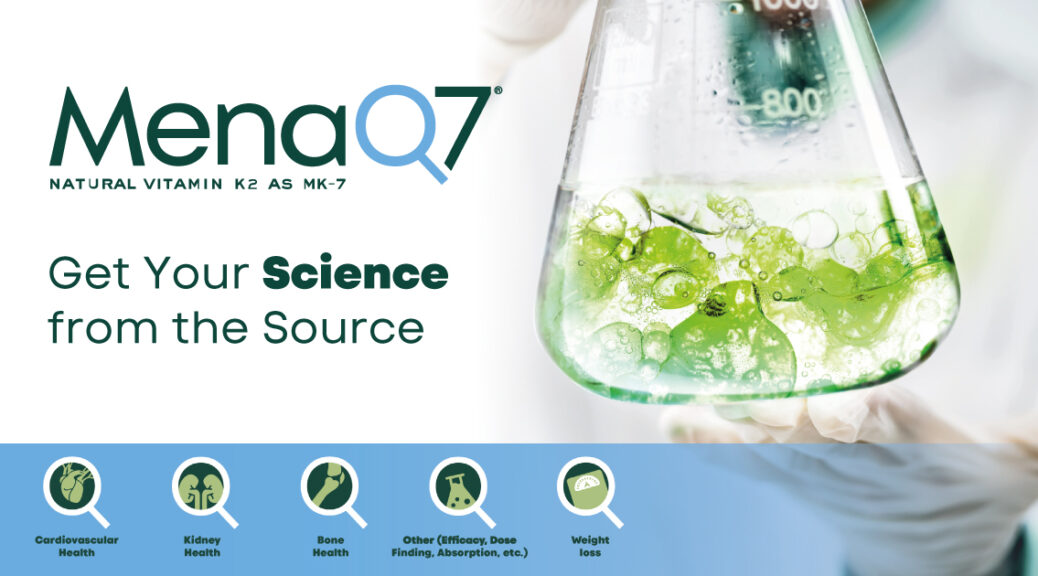 Achieving the status of clinical validation for an ingredient requires substantial investment and unwavering commitment. This is precisely the path that has shaped the success of MenaQ7® Vitamin K2 as MK-7 in the market today. MenaQ7® stands as the foundation of current knowledge on Vitamin K2, being utilized as the source material in over 22 human clinical trials that have demonstrated its benefits for human health. These significant findings have been published in respected peer-reviewed journals – and are now made easily accessible to you.
The Most Important Clinical Findings
Leading the K2 category is a multi-faceted endeavor of exploration, validation, and education. Exploring indications and the mechanism of a bioactive ingredient, validating its benefits for human health, and educating the medical communities, the natural products industry, and brands that work to bring supplements to market with true health-improving potential.
MenaQ7® research spans from dose-finding studies and trials confirming the superiority of K2 as MK-7 compared to K1 and K2 as MK4 in the activation of vitamin K-dependent proteins Osteocalcin and Matrix Gla Protein to the groundbreaking efforts showing bone and cardiovascular benefits in healthy populations. And if that was not enough MenaQ7® is the only Vitamin K2 as MK-7 used in studies showing its benefits for children's bone health.
Only MenaQ7® is Validated for Kids' Health
In 2008, a study revealed that enhancing vitamin K status in children over two years led to stronger and denser bones. Subsequently, the same researchers found that supplementing healthy, pre-pubertal children with just 45 mcg/day of MenaQ7® Vitamin K2 as MK-7 increased osteocalcin activation.
Moreover, as children may struggle with swallowing pills, product development should focus on enjoyable options like fortified yogurts. Studies have proven that MenaQ7® Vitamin K2 as MK-7 can effectively be delivered in yogurt, improving K2 status.
We welcome you to explore the path to discovery by downloading this comprehensive overview of the impressive clinical substantiation of MenaQ7® Vitamin K2 as MK-7.