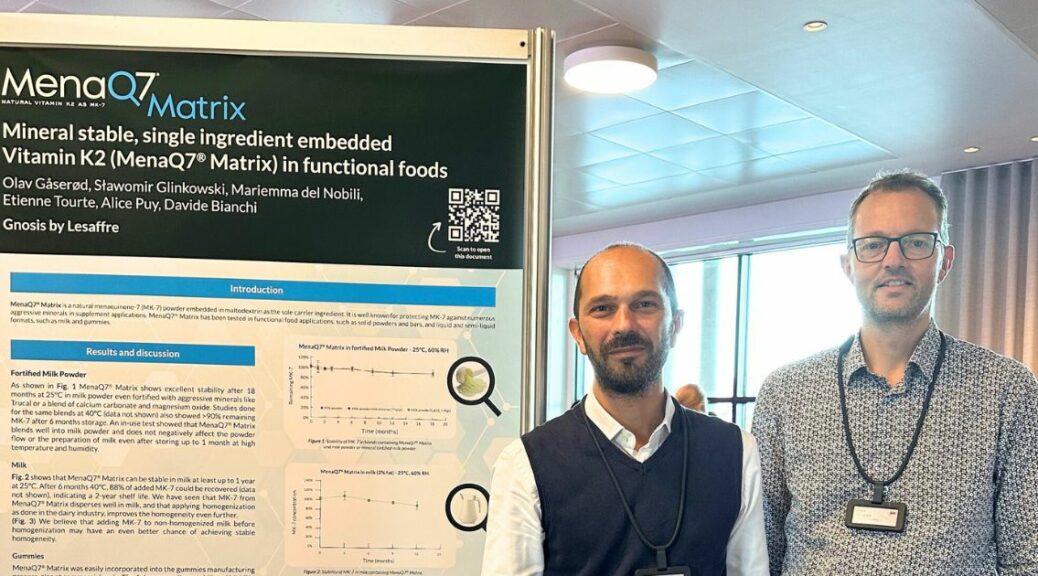 The 7th edition of the prestigious International Vitamin Conference took place in beautiful Copenhagen from September 20th to 22nd, 2023. The conference is important for presenting new research and pioneering vitamin innovations. It attracts participants from esteemed research institutions and companies from the natural products industry. Gnosis by Lesaffre was honored to participate in this gathering of leading experts, researchers, and industry leaders.
The Gnosis team proudly contributed with a dynamic poster presentation that illuminates the potential of enhancing and fortifying functional foods with Vitamin K2, utilizing the latest vitamin K2 protective technology: MenaQ7® Matrix. Presented by our very own Olav Gåserød and Davide Bianchi, the audience had the opportunity to follow up with our experts on-site.
Bridging Food and Function
The Matrix technology, well known for protecting the MK-7 molecule against numerous aggressive minerals in supplement applications, holds other attributes that make it highly advantageous when formulating vitamin K2 in functional foods. The Gnosis team presented four categories of popular foods that are expanding into fortification to make their products more attractive to a more health-conscious consumer base: Fortified Milk Powder, Liquid Milk, Protein Bars, and Gummies.
The poster, complete with stability data spanning up to 20 months in ambient and aggressive conditions, provides formulators with a valuable guide to successfully incorporating vitamin K2 into their products. MenaQ7® Matrix disperses well in powder-based, liquid, and semi-liquid products while withstanding the harsh conditions of food processing, such as elevated temperature (autoclaving) and high-shear homogenization.
Adding True Functionality to Products
When enriching your products for enhanced functionality, there is one very natural choice: With MenaQ7® Matrix, you can trust that the science-backed health benefits remain potent and effective, making it the ideal choice for enhancing a diverse range of functional foods.