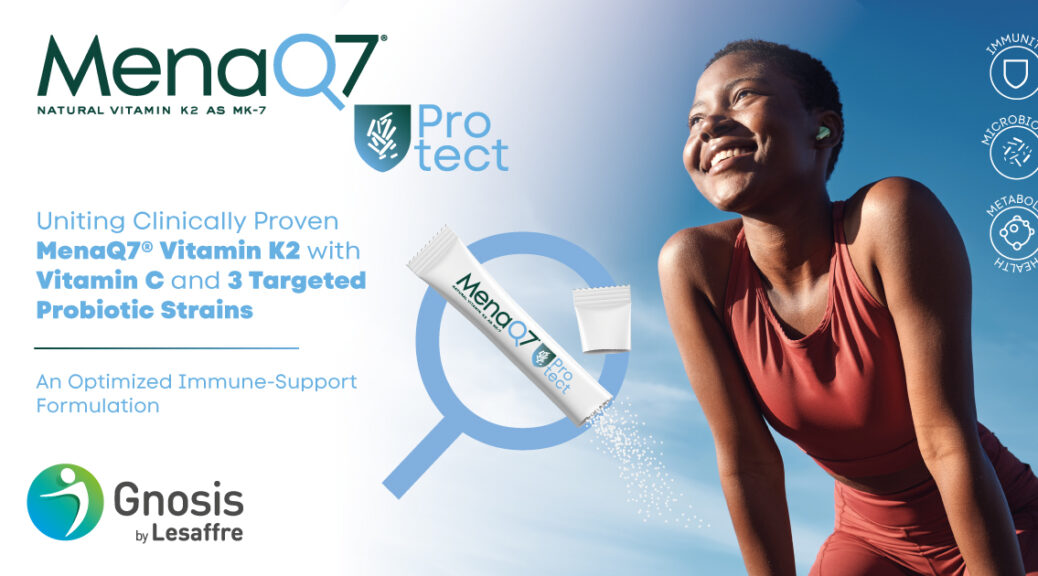 The importance of a robust immune system is essential for overall health. While lifestyle factors like regular exercise and sufficient sleep play vital roles in immune health, the role of nutrition, particularly micronutrients, should not be underestimated. These tiny, yet powerful components are unsung heroes of our immune defense system.
Partnering Up for Quick to Market Opportunities
Gnosis and Probiotical have joined forces to offer a hassle-free, immune-support solution in a convenient stick pack. By combining clinically proven MenaQ7® with vitamin C and three selected probiotic strains, a foundational immune-supporting formulation is delivered.
This easy-to-use formulation can be poured directly into your mouth or mixed into your favorite beverage. With its invigorating flavor and on-the-go convenience, you are all set for success with a ready-to-market product.
The Potential Novel Role of K2 in Immune Health
Vitamin K2 may play a multifaceted role in supporting the immune system. Emerging research has unveiled its immunomodulatory functions, highlighting its potential to mitigate inflammation. Additionally, Vitamin K2 has been shown to impede T cell activation and proliferation, further fine-tuning immune responses. What is more, this vital nutrient has been attributed with antioxidant properties, which are essential for maintaining proper immune functions. When it comes to lung health, Vitamin K2 activates Matrix Gla Protein, acting as a crucial inhibitor of lung tissue calcification, which is associated with reduced lung capacity and a higher likelihood of respiratory issues in individuals with lower Vitamin K status.
Uniting of Nutrients with a Foundational Approach to Immune Support
MenaQ7® Protect combines Vitamin K2 as MK-7, three carefully chosen probiotic strains, and Vitamin C to deliver comprehensive and targeted support for our immune system. Probiotics operate in harmony with our immune system, adeptly distinguishing between allies and adversaries, and play a pivotal role in fortifying our defenses against harmful pathogens.
At Gnosis we are thrilled to introduce this innovative solution in the space of immune health. This Smart-Immunity Formula that also supports bone and cardiovascular health, is delivered in a super-convenient "On-the-go" stick pack, where the tasty powder can be poured directly into your mouth or dispersed in your individual beverage of choice.
Get the insight on how you can quickly go to market with this new and innovative concept in a consumer appealing finished product.