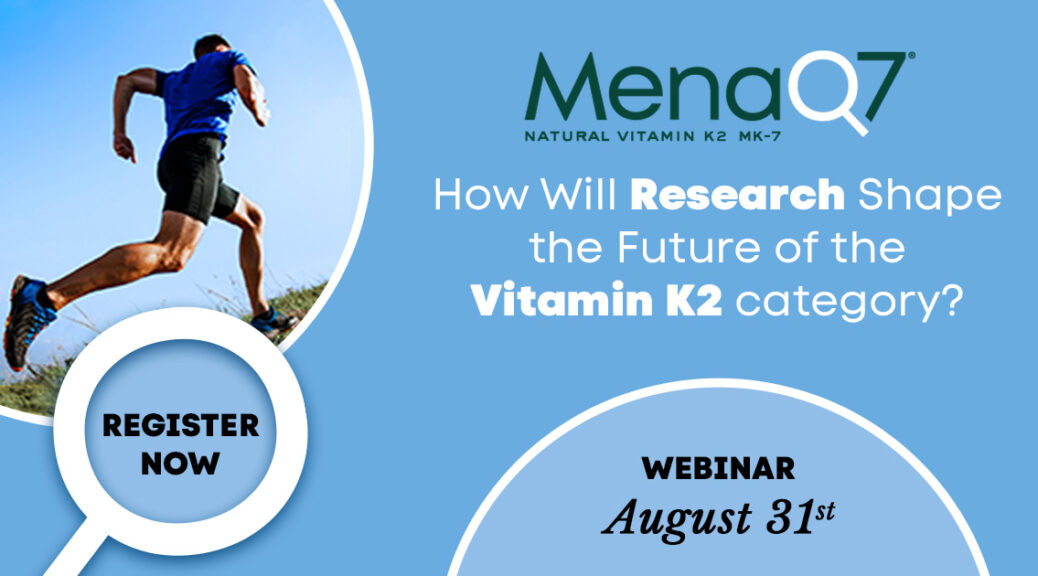 Discover how the latest research is driving the potential for Vitamin K2 on human health. Mark your calendar for an insightful webinar hosted by Nutraingredients, featuring Gnosis K2 experts.

Join us Aug 31st at 7 pm CET – 1 pm EST – 10 am PST!
Beyond Bones and Heart: New Avenues for Vitamin K2
The Vitamin K2 category has long been established on a foundation of clinical evidence, with MenaQ7® leading the way in confirming its safe and effective health benefits across all age groups. As research continues to unfold, the known mechanisms of Vitamin K2, particularly on cardiovascular health, reveal promising associations with cognition, metabolic health, inflammation, and more. Our upcoming webinar will provide unique insights into ongoing studies and future research surrounding this essential nutrient, uncovering its next possible indications and untapped potential within the market.
Leading Experts in Vitamin K2 Research
Get valuable insight from Gnosis's astute speakers: Dr. Stacey Smith, DC, Marketing & Communications Manager, and Dr. Hogne Vik, MD, PhD, MBA, Medical and Scientific Advisor. Together, their substantial knowledge will guide you through the dynamic and ever-expanding landscape of Vitamin K2, unveiling links to different areas of health, and the numerous opportunities within the category.
Embarking on a Journey Towards Innovation
Beyond its well-established benefits for heart and bone health, Vitamin K2 research is venturing into new territories of human health. Our speakers will present a magnifying glass into the future of the Vitamin K2 category, founded on the clinical validation of MenaQ7®. Further, the cutting-edge advancements in K2 solutions offer innovative formulations in new sought-after finished product dose forms, enhancing the value of supplements designed to support foundational health throughout all stages of life.
Our webinar is an opportunity to gain exclusive insights into the transformative potential of Vitamin K2 and its profound impact on human health. Equipped with this knowledge, you will be set to make informed decisions and drive the future of your Vitamin K2 Portfolio.