Deficiency
Even the healthiest diets fall short on delivering all the nutrients the body requires to operate optimally. This is particularly true for Vitamin K2.
It has long been believed that vitamin K defi­ciency is rare due to dietary intake and contribution from microbial biosynthesis in the gut. Yet published studies show that the majority of both children and adults are vitamin K deficient.
Consider that dietary intake data from the 1950s and early 2000 in the UK show that consumption of vitamin K is now lower than it once was – a likely a consequence of changing diets, as well as food supply. For example, between the 1950s and the 1990s, fats and oils became a larger part of most Western diets than vegetables.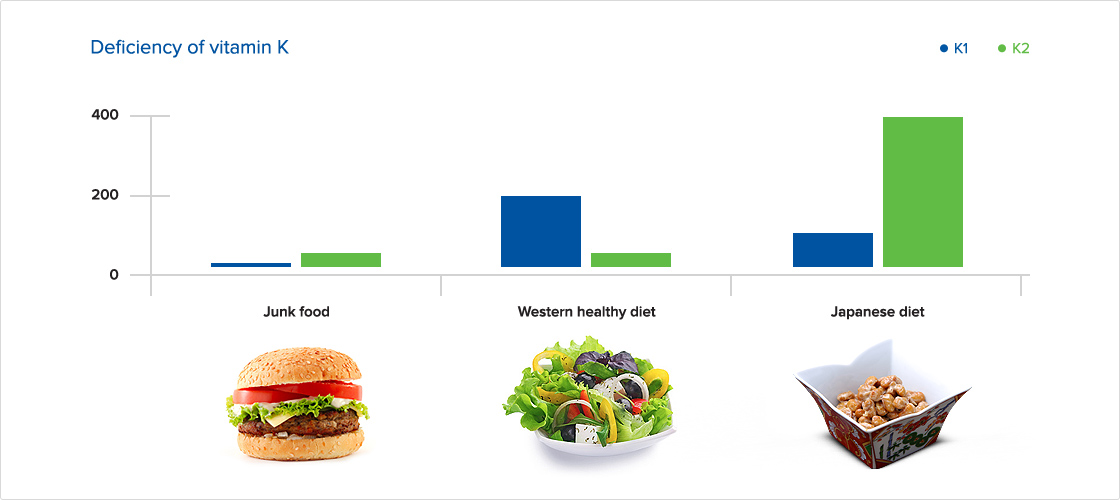 We value your privacy
We access information on a device, such as cookies and process personal data, such as unique identifiers and standard information sent by a device for personalized ads and content, ad and content measurement, and audience insights, as well as to develop and improve products. With your permission we and our partners may use precise geolocation data and identification through device scanning. You may click to consent to our and our partners' processing as described above. Alternatively you may click to refuse to consent or access more detailed information and change your preferences before consenting. Please note that some processing of your personal data may not require your consent, but you have a right to object to such processing. Your preferences will apply to this website only. You can change your preferences at any time by returning to this site or visit our privacy policy.