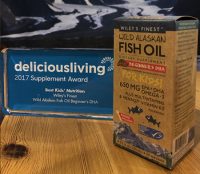 Wiley's Finest Fish Oil launched Beginner's DHA for Kids featuring MenaQ7® Vitamin K2 at Expo West 2016. One year later, the product is recognized as the Best Kid's Supplement by Delicious Living magazine.
The editors walked the Anaheim, CA show floor, sussing out hundreds of products to find the cream of the crop supplements from companies that are creating products with quality, transparency, and integrity, according to Delicious Living.
"People of every age benefit from omega-3s DHA and EPA, and a half-teaspoon of Beginner's DHA provides 400 mg EPA and 250 mg DHA," the magazine writes. "But a little-known fact is that one's chances of succumbing to osteoporosis as an elderly person is predicated on peak bone mineral density as a late adolescent. We've been saying for some time that supplement companies need to put Vitamin K2 in children's formulations for just this reason, and Wiley's finally did it – and in a liquid, not a hard-to-swallow pill."
Wiley's is a company focused on quality, which is why it selected the only clinically validated K2 on the market – MenaQ7® – for its kid-specific formula.
To learn more about the Delicious Living award, click here.
To learn more about Wiley's Beginner's DHA featuring MenaQ7, click here.